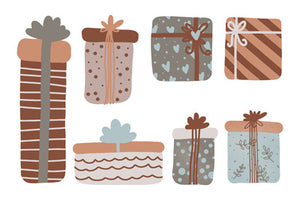 Custom Sweets Boxes As Gifts
---
If you are looking for an amenity or a gift to give that would be both memorable and delicious, select a custom sweets box.  The box is 8-3/8 X 6 X 1-1/2 in either white or gold with a clear top.  Inside is a custom image cookie, a pretzel stick wrapped in caramel and chocolate with a sprinkle topping (nuts are available), and one other treat (cake truffles or rice marshmallow bar, smaller cookies, pecan turtles) you may select to include.  We can also add a custom ribbon with your logo or short phrase to wrap around the box and a tag.  On the back of the box is an ingredient label.
Cookie flavors include: Butter Vanilla, Dark Chocolate, Red Velvet, Orange Cardamom, Lemon, and Cinnamon Bun.  Inquire about other seasonal flavors.
Custom Sweets Boxes start at 25.00 each and increase depending upon the sweets inside the box. Large orders at 300+ will receive a price discount. Please order at least 3 weeks prior to your delivery date.
---